There are so many options now days for backpacks!! I am going to break it down from a Mom's point of view. It really depends on what you are looking for. Decide if you want a bookbag for just a few school years or forever.
1. Functional
2. Fashionable
3. Forever
If you are looking for the
"Forever backpack"
then head to
LLBean
and check out their wide variety of backpacks. I have had my LLBean backpack since I was in elementary school and it has lasted for over 30 years ya'll!! If the zipper ever does break or the backpack becomes damaged they will send you a new one. LLBean offers a variety of different sizes for children ranging in age/size. The Deluxe Book Pack is the one I would recommend for elementary/middle school. The Deluxe backpack is $49.95 and available in a variety of fun designs.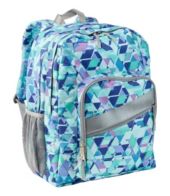 *Photo credit LLBean*
The
Original Book Pack
is perfect for younger children, Kindergarteners, First Graders, Second Graders. The Original Book Pack is available in fun patterns and it has a convenient water bottle pocket on the side. These can be personalized too. The Original Book Pack is $39.95. This is what my youngest daughter uses.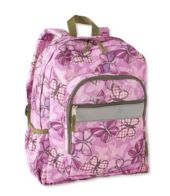 *Photo Credit LLBean*
If you have a preschooler then I would recommend the Junior Original Backpack. This is much smaller and perfect for the little one's. The Junior Original Backpack costs just $29.95 and it is available in 3 colors.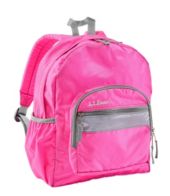 *Photo Credit LLBean*
Now if you are looking for a
fashionable and functional
bookbag then head over to
Pottery Barn Kids
and check out the wide variety of backpacks including Disney princess, glittery, butterflies, unicorns, cats, camouflage, Disney Cars, Star Wars, sharks, transportation, MBL, Snoopy, etc SO many options ya'll!!
My kids have always loved their Pottery Barn Kids bookbags. But I do need to warn you, they are pricey and they do not have any warranties. Womp womp. We have purchased at least 6 PBK backpacks over the years. They are great for road trips, sleepovers, field trips, school, etc. But I would not recommend planning to use them "forever" as we have already had a zipper break on one, a hole form in another, etc. And I called the customer service number and sadly they did not offer to send us a replacement. The Pottery Barn Kids bookbags are available in 4 sizes: Pre-K, Small, Large & Rolling. Prices range from $34 to $74. My rising 6th grader has the Large size and it fits the 3" inch binders and her lunchbox. At our school the rolling bags are not allowed. But I love the rolling bags! The rolling bags are especially nice for airports, traveling, etc.
How cute is the Disney Princess collection at PBK?!
*Photo Credit Pottery Barn Kids*
How cute is the Marvel SpiderMan collection at PBK?
*Photo Credit Pottery Barn Kids*
Now if you are looking for a more fashionable, affordable backpack you could always go to
Justice
and be blinded by the glitter when you walk in the door LOL. They have some really cute initial backpacks and really sparkly mermaid backpacks. The prices are very affordable, starting at just $20
If you are on a budget then head over to
Five Below
. They have backpacks for just $5. I have seen Shopkins and Redskins backpacks there!
*Photo Credit Five Below*
Follow me on Twitter at
www.twitter.com/DisneywithKids