My children were SO excited when the mail arrived yesterday and they discovered they had a special package from Santa! The envelope was even stamped "North Pole". This is such a fun holiday tradition to keep the magic alive. My 11 year old read the personalized letter to her younger brother and sister and all 3 of their faces lit up. This is such a fun, magical, memorable experience for the whole family.
I love that the letter includes a gold seal Santa
Start a Magical Christmas Family Tradition That Your Child Will Cherish Forever!
Give the one-of-a-kind memorable EXPERIENCE of receiving a Package From Santa!
Every Package From Santa includes both tangible & technological delights including:
* a personalized Santa Letter that arrives in the mail
* a personalized VIDEO starring your child via email
* a personalized PHONE CALL
* a personalized printable NICE LIST GUIDE
* and the option to upgrade with MORE goodies!
It is SO simple to sign up, just visit their website
www.packagefromSanta.com
and decide which package you would like. Then you can type your letter or you can use a template. I always like to write my own letter to include all 3 children's names and add special things. I wrote a paragraph to each of my children and stated "Good job on getting Honor Roll" to my oldest. This let's the children know that Santa really is watching them. ;) I received the silver package which includes:
- Personalized Letter from Santa Claus
- Personalized Nice List Certificate
- 8 1/2 X 11 Photo of Santa Claus
- Personalized Santa Flight Plan
- Special Shipping Label Addressed To Your Child
- Genuine North Pole Stamp
- BONUS! Personalized Video Greeting from Santa!
- BONUS! Personalized Call from Santa
- BONUS! Personalized Printable Nice List Guide
My readers can receive 25% off!! Woohoo!!
SAVE 25% Off Any PackageFromSanta.com with Promo Code: FAM2060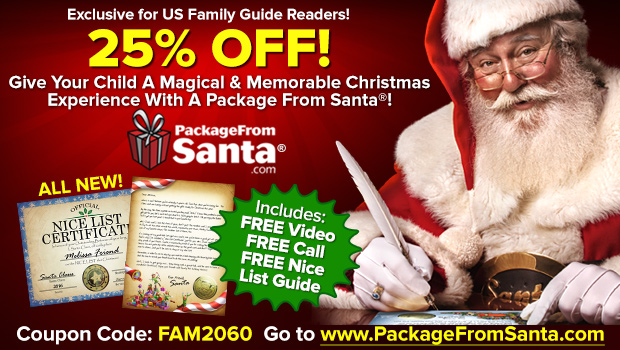 Follow me on Twitter at
www.twitter.com/DisneywithKids